Welcome to Portland-Montreal Pipe Line
Welcome to the Portland-Montreal Pipe Line website. Whether you are a customer, abutting landowner, or have an interest in the Portland-Montreal Pipe Line system, we hope you will find this website informative.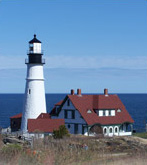 Portland-Montreal Pipe Line is proud of its 80 year legacy of supporting good jobs, community engagement and reliable energy in South Portland and throughout northern New England and Quebec.  The company is committed to operating its pipelines with the highest regard to public and employee safety, environmental protection, customer service and operational integrity. We are proud to be the recipient of the 2016 Distinguished Safety and Environmental Award, given by the American Petroleum Institute for excellence in safe and environmentally conscious pipeline operation.
Our website is designed to be a resource for you, providing an array of information regarding our company. We are grateful for your interest in Portland-Montreal Pipe Line, and thank you for taking the time to visit.